Static Transfer Switch Series
Static Transfer Switch Series
Highly reliable power redundancy for mission critical IT equipment
The Static Transfer Switch (STS) safeguards the uninterrupted operation of mission critical IT equipment. Powered by two independent power sources, the STS rapidly switches from one source to the other automatically when the power supply used to power its connected load fails. For datacenter applications the STS allows power drop risk to be shared or distributed to each rack to prevent power loss for the whole system. The STS offers an efficient and reliable switch that supports the high redundancy requirements of mission critical power systems.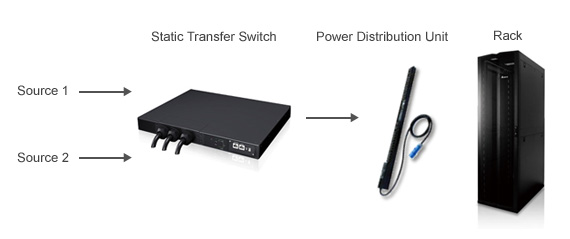 ▲ Supports redundancy application with higher reliability
Product Description
Features & Benefits
Availability
Adopts SCR design instead of a relay as a switching device to increase reliability and handle high inrush current
Supports power redundant configurations for high reliability
Monitors the health of the power source and performs the transfer automatically
Short transfer time (6ms)
Convenience
Rack-mounted type with 1U size for easy installation and relocation
Built-in SNMP for remote management
LED indicators show power flow
Self-test function
Short MTTR (less than 5 minutes)
Safety
Break before make prevents short circuits between two sources
Technical Specifications
Input
200/208/220/230/240 Vac
Output
200/208/220/230/240 Vac
Connection
Input S1 : IEC309 / L6-30P
Input S2 : IEC309 / L6-30P
Operating temperature
0~40℃
Storage temperature
-15~50℃
Humidity
5%~95% RH (non-condensing)
Audible Noise (at one meter)
<45 dBA
Physical Dimensions (H x W x D)
43 x 440 x 355 mm
• All specifications are subject to change without prior notice.
Downloads

Static Transfer Switch Series (Leaflet) – 649,76 Kb

Static Transfer Switch Series (User Manual) – 6574,46 Kb
Enquire Now
Back To Products List